This July we are proud to present the inaugural Maria Thompson Memorial Road Race for 2/3/4 Women and Junior Women. This race will be held on the Kitsmead Lanelcircuit near Chobham, with points awarded separately in the Adult and Junior categories.
It will be run alongside our annual Junior Road Race, the first in the series of three that takes place across Surrey, Kent and Sussex. Although this series is predominantly aimed for Junior riders, 3rd category men and women can also enter the races within the three week period before the race start date subject to spaces being available.
Entry for the Junior Road Race
Entry for the Maria Thompson Memorial Road Race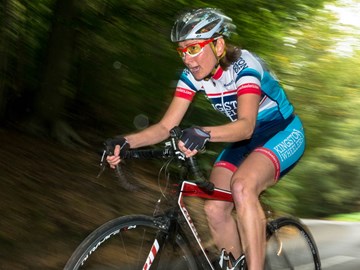 Maria Thompson joined Kingston Wheelers in 2010 and rapidly became everyone's favourite companion on club runs with her great sense of humour. She also became a well respected racer, culminating in placing at the National Vets champs. She died from an aneurysm whilst riding her bike home from work in Richmond Park in 2017. She is sorely missed by all who met her.